Hans-Christian Ørsted (Oersted)
Physicist and chemist, b. 14 August 1777 (Rudkøbing, Denmark), d. 9 March 1851 (Copenhagen).
---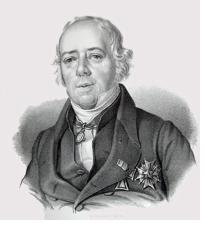 Hans Christian Ørsted was the son of a pharmacist on the Danish island of Langeland. His parents were rather poor and had to work long hours, so Hans Christian and his younger brother were placed with a German wigmaker's family in Germany. At the age of seven Ørsted began to work in his father's pharmacy. Although both boys never had any formal education they passed the entrance exam to the University of Copenhagen in 1794.
In 1797 Ørsted graduated with a pharmaceutical degree. But his main interest was in natural philosophy, and in 1799 he submitted his Ph.D. thesis on Immanuel Kant. He spent some years supporting wild philosophical ideas on nature without any attempt at verification but gave this up when a visit to Paris made him the laughing stock of the French intellectuals.
In 1804 Ørsted returned to Denmark and slowly rebuilt his reputation through public lectures. As a result he received an appointment at the University of Copenhagen. Guided by Kant's philosophy on nature, which stated that the essence of science was not merely the recording of facts but the discovery of patterns imposed by the human mind, he began with serious experiments.
Kant's idea that scientific laws are the expression of patterns imposed by the human mind allowed Ørsted to think relatively independently of his contemporaries. He did not accept the teaching of the time that electricity, magnetism, heat and other physical and chemical processes were unconnected phenomena. By passing an electric current through a wire to make it glow he demonstrated that electricity, heat and light were linked.
Ørsted's major discovery came in 1820 during a public lecture on electricity and magnetism. He had set up an arrangement where a fine wire was laid over the glass cover of a large compass and noticed that the needle moved when he connected the wire to a battery. The discovery led him to show that a current-carrying wire is surrounded by a magnetic field. His paper of 1820 in which he reported his observations had an immense impact on the development of science and was followed up by scientists all over Europe.
In the area of chemistry Ørsted was the first to isolate aluminium as an element by separating it from aluminium ore. He mentioned his success to the German chemist Friedrich Wöhler, who perfected the method and is generally known as the inventor of the aluminium isolation process.
During the last period of his life Ørsted returned to his penchant for philosophy and wrote articles on the relationship between science and beauty. His book The Soul in Nature remained incomplete.
Portrait: public domain (Wikipedia)
---